http://serendipitous13.livejournal.com/518870.html
Ben was only two months old when I wrote that entry. It seems like yesterday and forever ago!
Now that Ben is coming up on his first birthday our nursing relationship has gone through a few difficult times and changed from what it was.
With the help of my other breastfeeding mommy friends and my husband, we've gotten through two nursing strikes, some growth spurts, a couple illnesses, teething, and starting daycare.
I was able to meet my
first goal
of exclusively breast milk for the first six months. Ben's six month birthday was on Mother's Day and it was bittersweet for me. Until then he'd only had my milk, and he grew wonderfully on it. I was excited to let him try new foods, his first was avocado, but was sort of sad about it too. He has four teeth now and it's all I can do to keep his hands out of whatever food I'm eating! BUT he still loves to nurse. And I still love to nurse him. There really is a bond there that is like nothing I've ever experienced.
Over the summer I didn't have class, but I kept pumping once a day to keep a stock pile in the freezer. I'm planning on making soap with my extra milk. Being with him every day, all day long for three months was hard. I got touched out and sometimes just had to leave the house for a couple hours to have some time to myself. But going back to class in the fall was even worse. Ben started going to daycare two or three hours a day, five days a week. It was hard for me to leave my baby. I got stressed out and, at 9 months post partum, I got my period back. My supply dipped a little and I went to eating oatmeal everyday and drinking mother's milk tea. The last period I had was really rough. My supply dipped, I did NOT want Ben anywhere near my nipples, and I had cramps like I've never had before. I've since gotten some cal/mag supplements, so hopefully they'll help next month.
When Ben got his first two teeth, his latch became painful for about a week while he figured out what to do with his tongue now that there were teeth there. I actually ended up with a cut on one of my nipples. It hurt like crazy but with some air time and lanolin it healed within three or four days. When he got the top two, his latch was off for a day or two, but it wasn't as painful as with the bottom teeth and I didn't get any cuts or bites. Right before he got the first two teeth, we went through our first nursing strike. He simply would not nurse. He cried, arched his back, cried some more. I finally got him to nurse when he was sleepy. I walked around topless, holding him so that his face was aimed at my breast. Eventually he latched and nursed himself to sleep. The next morning I got him to nurse by taking him outside and sitting in the grass. After I "tricked" him into nursing those two times, he was fine after that. And since I'd gotten through that nursing strike, when the next one came, I knew some tricks to get him to nurse even though he was refusing hardily.
I've nursed in restaurants, baby showers, wedding receptions, churches, airports, airplanes, parks, malls, my car, rest stops, museums...
I've had to deal with my MIL throwing a blanket over me, women giving more nasty looks, people asking me when I'm going wean "'cause he has teeth now!"
Lately I've been looking forward to his birthday. My
second breastfeeding goal
is to breastfeed for a year, with no formula supplementation. I have to admit I'm partially looking forward to it because I can STOP PUMPING! I'm so sick of pumping everyday. I don't know how moms do this exclusively. I only use a hand pump once a day and I'm so over it. Hopefully, Ben won't have an reaction to animal milk and he can have that when I'm not around. I'll still nurse him when I'm home, but when I want to go run errands or I'm in class he'll be able to have animal milk. But I can't imagine weaning him yet. At all. My
third goal
will be 18 months, but it's entirely likely we'll continue until age two.
I have to say, it's been both easier and harder than I thought it would be. And I haven't even had that many problems. None at all compared to some of my friends. But without the support of my husband, my mom (
moogiesmom
), my friends (
dymphnalynn
,
isarma
,
mamiesgoo
,
rememberjuly
,
rockon_1986
) and my adopt-a-mom mentor,
cuspie
, it would have been much, much harder. All of these people have given me support, information, and love. Even if it was just a "hey, I think that's cool that you do that" or, in Agata's case, sending me news articles about breastfed babies being smarter, it really made me feel like this is something that I should be proud of doing. And, hopefully, through my journey, I've encouraged and inspired other women to do what's best for them and their babies.
Can you believe Ben was ever this small: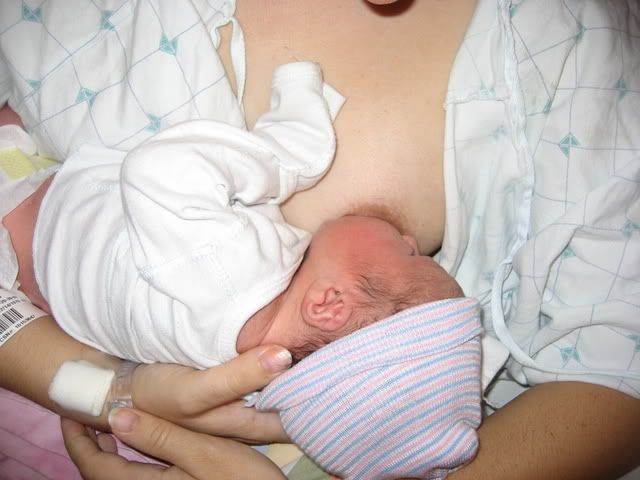 This was on October 12th, at the pumpkin patch.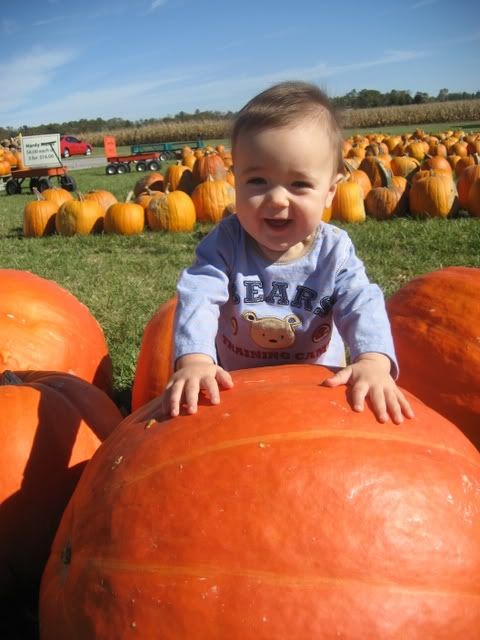 This is a continuation of my post here: